RSS
Subscribe to our newsletter
Recent Posts
September 27, 2010 - RIM unveils Playbook (tablet computer)
RIM has announced they are unveiling new tablet computer called Playbook, this product is similar to Apple iPad.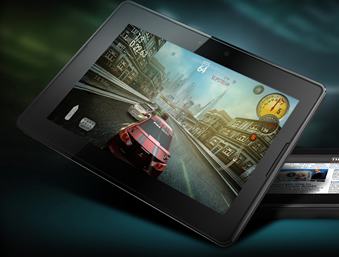 Quick facts:
1 GHz dual-core processor
1GB RAM
3 MP high definition forward-facing camera
5 MP high definition rear-facing camera
Codec support for superior media playback, creation and video calling
1080p HD video; H.264, MPEG4, WMV HDMI video output
Micro USB, Micro HDMI, and DLNA media streaming
Here you can find Playbooks full specs and description: http://na.blackberry.com/eng/?IID=rim_playbook_homepage
Associated tags: Rim, Blackberry, Playbook, Ipad
Comments:
Michael Pankratov wrote on September 30, 2010 at 12:28
Unfortunately price for Playbook is still unknown, but we know that it should be available in North America at the beginning of 2011, and it will become available world wide by the end of 2011.
Lexus wrote on May 31, 2011 at 09:33
That`s not just the best anwser. It`s the bestest answer!